I'm lucky because I've never had to deal with really bad acne. Because of this, I use to really neglect my skin, and not wash every night like I'm suppose to. But I've had other issues with my skin's hydration and texture over the years. Being in college makes you have to take care of yourself in so many different ways, and I've learned that I won't always have good skin forever. I've tried a few different cleansers and moisturizers in my life, but when it comes to skin, you gotta stick with what works. Here are some short reviews on some skin care products I've used.
Cleansers
:
I have normal to dry/combination skin. I need a cleanser that is gentle, but because I wear makeup and I work at a restaurant, I need one that thoroughly cleans my face, too. Here are ones that I've tried:
Johnson and Johnson's Purpose Gentle Cleansing Wash
(under $6) is my favorite drugstore cleanser. This cleanser does exactly what it claims- it cleanses dirt, makeup, and oil without stripping the skin of moisture. After washing my face with this stuff, my face feels thoroughly clean without feeling dry or tight. I still reach for this cleanser when my skin is feeling sensitive and I just want a simple, no-frills wash.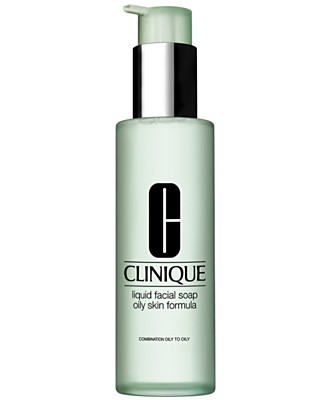 Currently, I use
Liquid Facial Soap by Clinque
($15) in Mild. This cleanser is just blah. It reminds me of the Purpose cleanser, except this one has a slight smell to it. The Purpose cleanser is also gentler and less drying. When I tone my face after using this cleanser, my cotton ball will turn dark, a sign that this stuff didn't thoroughly clean everything off my face. I do like the packaging, but for the price, it needs to be something special.
Qiora is a skin care company owned by Shiseido. This product is called
Face Cleanse DH
($36). My sister uses all Qiora products in her regime, and she has great skin. Because the entire line is so expensive (the moisturizer is like $70!), I only use the products when I visit her, and I have a few samples she was able to snag for me. I would only ever consider buying the cleanser and Make-up Cleanse (I'll talk about this product next), because they're fabulous and worth the price to me. You only need a tiny amount of this creamy cleanser, just a pea size, or half of your pinky, so it goes a long way despite the cost. This cleanser leaves my face squeaky clean (literally!), so I always have to follow up with a good moisturizer.
When I first tried the Qiora products, my sister told me I couldn't even think about cleansing my face unless I thoroughly removed makeup first.
Makeup Cleanse DH
($38) makes removing makeup a breeze. This product is creamy, but feels kind of oily too, but not in an excessive way. It's gentle enough to remove eye makeup, and it just feels good to know that after I use this, and then cleanse my face, I haven't left any makeup on and I can just jump into bed. I've use a makeup cleanser from Estee Lauder, and this one by Qiora is way better.
Moisturizers
:
I'll use two different moisturizers on an average day. In the morning I use one with SPF because I'm too lazy to follow a moisturizer with sunscreen. At night I'll just use any one that doesn't have SPF. I'm not picky with moisturizers because I figure that my skin has the potential to keep itself moisturizered and I'll even use my boo's moisturizer in a pinch. Nonetheless, here are some that I really like:
Alba's Sea Moss Moisturizer
($15) is still one of my favorite daytime moisturizers. It's moisturizing but absorbs quickly. I used it back when I was really into natural skin care. I've used other moisturizers since, but I would still go back to this one. It doesn't have much of a scent, except maybe a slight smell from the sunscreen. I don't like the packaging, though, because it has a screw top, and I use to always squeeze out too much product.
I got a sample of
Clinque's Youth Surge SPF 15
($48.50) in a gift set I got after buying some Clinique products. This is a great day moisturizer, but it's so damn expensive. I didn't even realize how much it was until right now (writing this review). I would love to use this again because it's lightweight and I adore the packaging, but if I can never get my hands on it again, Alba's moisturizer does just fine for the fraction of the price.
Dramatically Different Moisturizing Lotion by Clinque
($24) is the best, and only worthwhile product in Clinque's 3-step skin care program. I love the packaging (you can also buy it without the pump). This product moisturizes my dry skin without making it feel greasy. However, I sometimes get dry, irritated patches around my face (it's just the way my skin is, not the product's fault) and this product won't take care of them.
I mentioned
Qiora's Moisture Balance DH
($71) earlier. This moisturizer is really unique because it's a liquid. There are five different moisturizing levels, so it's nice that you don't have to settle with just one. Because it's a liquid, it moisturizes the skin amazingly and doesn't leave any kind of residue whatsoever. A little goes a long way, but I couldn't image myself spending 70 bucks for this product, at least not any time soon.
Toners
:
When I first started using a toner, I was under the impression that a toner should remove any dirt, makeup, or residue that your cleanser leaves behind. Then I realized how very wrong I was. What kind of cleanser leaves stuff on your face? Isn't a cleanser suppose to
cleanse?
A toner should really do two things. One, it should restore the pH of your skin. Our skin is natural a little more acidic than neutral. Because soap is basic, it messes with the natural pH of our skin. Our bodies normal restores our skin's pH by itself in about an hour, but toning just does it instantly so your body doesn't need to. This is why some people say you don't really need a toner, but something else that a toner does is prepares your skin for your moisturizer. It helps your moisturizer skin in better, which is nice when you gotta hop into bed with your honey right after your nighttime routine.
My favorite toners are
hydrosols
. Hydrosols are by-products of essential oils. When people make essential oils, the steam produced has some of the qualities of the plant, but only much milder. They can distill this steam (turn the vapors back to liquid) and the by-product (hydrosols) can be used is all sorts of different ways, depending on what plants they are made from. I really like rose geranium and lemongrass hydrosols. A great place to explore different hydrosols, and find out what different ones do, is
Garden of Wisdom
, but you can find them from different retailers online.
As I mentioned, I really prefer hydrosols over anything else, but I have used store-bought toners, too.
Clinique's Clarifying Lotion
($11.50-$20) is one of the more expensive ones I've used. This one smells and feels like alcohol. I love the packaging, and it improves the texture of my skin, but it reminds me of drugstore toners I've used. I'm still in search of a good store-bought toner, so let me know if you've found one.
Treatments and other products
:
Make Up For Ever's Sens'Eyes Waterproof Sensitive Eye Cleanser
($23) is the best makeup remover I've ever used. In the past, I've gotten really bad reactions to makeup removers, so I'm always careful to pick one that's for sensitive eyes. This product is a lotion, and you don't have to wipe your eyes too much with this stuff. You just pump some onto a pad or cotton ball and hold it to your eyes. The product gently dissolves the makeup, and you can simply wipe everything away, even waterproof mascara and eyeliner. The worst thing about this product is that you need one entire pump for each eye (two pumps total), which seems like a lot of product, and it does seem to go fast for me.
I gave
Clinque Naturally Gentle Eye Makeup Remover
($16.50) a try because it's cheaper than Sens'Eyes and it's also a lotion-type cleanser. Clinique never fails to dissapoint me. I hate this stuff. It stings the skin on my eyes and doesn't dissolve makeup the way Sens'Eyes does.
I order my
jojoba oil
from
New Directions Aromatics
because I like to get it in bulk, but Desert Essence makes a really popular one that you can get at Trader Joe's or Rainbow Grocery (under $8). I can't rave about jojoba oil enough because you can use it for a variety of things: hot oil hair treatment, nail cuticle moisturizer, lip conditioner, skin moisturizer and eye makeup remover, to name a few. This stuff dissolves eye makeup like no other and it conditioners your eyes' skin and lashes too. You have to use this oil sparingly because it makes your eyes greasy, and I've even gotten little "pimples" under my eyes from to much residue from this oil.
I couldn't find a picture of the actual product, but my favorite eye cream is
Spa Cosmetics Original Dead Sea Eye Cream ($24)
. Online, I think it retails for around $25, but I bought it at Marshall's for under $7. The eye cream feels light as marshmallows and it sinks in super fast.
You can get
tea tree oil
in so many places, The Body Shop, Trader Joe's, or health food stores. The price is really variable depending on the size you buy and whether you purchase organic or not. Tea tree oil is an essential oil that has antiseptic qualities, so you can use it to clean cuts, or even moisturize your cuticles or lips. I mainly use it to treat pimples. This isn't something you can use all the time because it's potent and it can cause skin sensitivity. You should be cautious with all essential oils, even tea tree.
Vitamin E
is an antioxidant and has so many health benefits. You can take it orally, but I break the capsules to use the gel on my skin externally. About seven months ago I fell off my bike- and broke my fall by landing face-on-pavement. Ouch. I have a major scar on the side of my eye from the accident. I went to my physician and she recommended that I use the gel inside of Vitamin E capsules to help fade the mark. It works great, and I know that some people use this same method to help fade acne scars. If you've ever used cocoa butter, you might see that the product contains vitamin E oil, too. If you want to try this stuff, I have one word of advice: some vitamin E capsules have gels that are really sticky and thick (for example, Nature Made). I found one that I like a lot because it isn't as thick and sticky, but I bought it at a food co-op and it's packaged by the co-op. You might have to search to find one that you like, or you can also by the oil itself, but that's harder for me to find.
Some people like to stick to one brand for everything, and purchase the cleanser, toner, and moisturizer from one line. I don't do this because I like to customize products to my skin. That's why there are so many different products available to us. For cleanser Qiora is the best I've found. I love Clinique's moisturizers, but I'll experiment with different companies for everything else. These are just the products that work well for me.
-Fancy Nancy